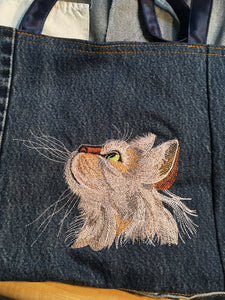 Virginia's Collections
Cat Embroidery - for cats lovers
Cats Lovers! This beautiful embroidery is suitable for being embroidered on either fabrics and in any combinations of thread colors. I could be embroidered on a pillow case, a tote, or any on a apron and could constitute a beautiful gift to cats lovers.
The listed price is for the embroidery stitching service and doesn't include the manufacturing of the item that should be embroidered on. 
If there is any inquiry of this design to be embroidered on an apron that you could find it in "Apron Collection" section on my website, then you should ad the apron you desire in the shopping cart and purchase it along with the embroidery stitching service. And, Please, send me a note regarding the colors you prefer the cat to be embroidered with.
---
More from this collection