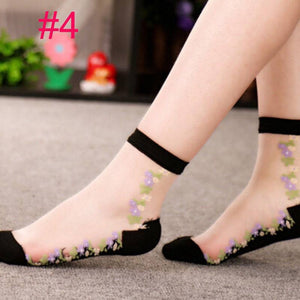 Virginia's Collections
Elegant Women Socks, Design #4, Organic Cotton
Virginia's Collections, is offering Unique, Gorgeous, Fancy, Elegant and Comfortable Women Socks that are made with 100% Organic Cotton and they have the future of deodorization. They are an excellent women accessory for summer, spring, autumn and winter seasons, when you like to present yourself outstanding and elegant person into friendly or family atmosphere.
Fashion industry is always looking for the latest trend to absorb it and then spread it to the rest of the world.
Each fashion brand aims to create a unique and characteristic visual style that fits its personality.
In my opinion majority of eccentric Haute Couture should belong in the museum. Most of them are not wearable.
I would say this: We are everyday girls that we need every day wear. Also we like to be elegant and feel comfortable, don't we?
That is why Virginia's Collections wants to draw your attention to a product that speaks for itself.
Virginia's Collections should become your favorite place to shop when you are looking for something unique, elegant, chic, or something that blends in a pleasant way the beauty and the usefulness of a wearable item such as these unique, gorgeous, elegant, fancy and comfortable pair of socks.
I suggest you to buy a pair of socks, wear it, visit a friend or a relative, take your shoes off and show your elegant socks. They will love them, with out saying that you will feel marvelous.  
This pair of socks is Unique, Elegant & Gorgeous. Has pale lavender color Flowers and pale green color leaves Design (listed in my inventory as Model #4), on White sheer and they are made with 100% Organic fine Cotton ( black cotton bottom part ). The inside of socks and the design's edges (from inside of the socks) are clean finished and they are not defective, because I, personally, checked and verified them, all about quality, I packed and tag them and prepare them for sell.
The black cotton side contain Lycra and for that reason they will fit sizes : 6-9.5 (US) / 36-39.5 (EU).
If you have wider feet, please send me a note (or a message) for letting me know and    look for a wider pair of socks for you.
Virginia's Collections has more designs/models(least 15 designs) you may choose from and at a very affordable cost. Just take a look, choose the designs you love and place your order.
Your order would be shipped in the same day your order have been place, if that happened before 3:30 PM PST(Pacific Standard Time), on Mondays - Fridays, and on Saturdays before 1:00 PM PST. If there is a Holiday, your order will be shipped right after that Holiday, when the USPS will open theirs business doors.
Materials: organic cotton, polyester, lycra, nylon, Woolly nylon
Ships worldwide from United States.
NOTE for International Buyers: Please check the international shipping costs before placing the order.
Thank you for stopping by.
                                                         Have a BLESSED Day!
---
More from this collection