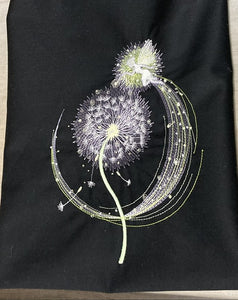 Virginia's Collections
Embroidered Tote/HandBag - Design # 7 Glow in the Dark
Unique embroidered tote/handbag.
This design is embroidered with Glow-in the-dark thread. The longer is stays in the light, the brighter will glow in the dark. 
Made from 100% cotton.
Fabric Color: Black
Size:.16 x 3 x 18 inches 
Material: 100% Cotton duck fabric. 
In less you request different color of fabric or different colors of embroidery design, you will receive the tote/shopping bag as is shown in the picture! 
---
More from this collection