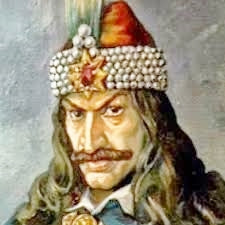 Virginia's Collections
VLAD the IMPALER (VLAD TEPES) Photo-Stitch Technique Embroidery
This "VLAD the IMPALER" (VLAD TEPES)  design is a Real piece of Art. 
This Beautiful Embroidered Design is made to ORDER.
This Design was digitized by me and I worked hard to get it done so detailed. 
The Design was digitized in multi-colored (10 colors) Photo-Stitch Technique that gives an almost Impressionist effect, which is why this technique is often used when digitizing works of art. 
It uses very densely placed stitches, approximately 250,000 stitches, often overlapping each other. Because of this, this Design must be Embroidered on a thicker/heavier fabric like: velveteen, ultra-suede, denim, canvas (medium>high thickness) and anything similar to these. This design is not suitable for being embroidered on light/medium or even heavier knit or jersey.

The design you see is suitable to be embroidered on a unique tailored man or woman vest(or any garment) or a trow pillow case, that could be made from any medium to heavy thickness type of fabric...I would suggest medium to heavy velveteen, medium to heavy thickness  Denim fabric, ultra suede, medium to heavy Shantung synthetic silk or anything similar to these examples.


These designs IS NOT suitable for being embroidered on very or ultra-light knit or jersey.
This design will be embroidered on a Back of a VEST or a Jacket or a Shirt made from medium to heavy Denim / Velveteen / medium to heavy Shantung Synthetic Silk fabric or anything similar to these. You have to choose one of the available fabric options.  
This product is made to ORDER... as a SPECIAL ORDER!! 
If there would be any product made for sale (a vest, a shirt or a blouse) there will be posted a picture of it with the price attached to it and you will have the option to purchase it.

DIMENSIONS:
The dimensions of this embroidery could be : 8" x 8" or 9" x 9' (inches)

The PRICE:
The price includes fabric, tailoring(of a Vest/trow pillow case/tote-bag/wall hanging) and embroidery costs. 
There could be a slightly difference in price if you choose the 9 x 9 inch embroidery design .
If you wish to embroider this design on your own garment, then the price of the embroidery service would be lower than listed price, that means the costs of fabric & tailoring will be deducted.

GARMENTS OPTIONS you may have to choose from:
- Men /Women VEST,
- 12 x 12 or 14 x 14 inches Pillow Case,
- Tote-Bag (12 x 12)
- 12 x 12 Wall Hanging
EMBROIDERY TIME NEEDED: 
It takes 600 min (10 hour), continuously for the embroidery machine to embroider this design. That includes hooping the fabric, changing threads, reloading bobbins, replacing needles, etc....

Embroidery could be an excellent choice for a gift of a Trow Pillowcase, or a Vest, or a tote-bag or a wall hanging, or a blanket, or an apron, or on anything you may think of, as well!!! 

At this time I will offer this design embroidered ONLY on khaki velveteen polyester fabric, medium thickness Blue Denim,  medium Shantung Synthetic Ivory Silk.
Please contact me prior to place the order, if there is any special suggestion or inquiry I will, definitely, try to work with you to fulfill your desires at the best level could be possible.

If you choose to embroider this design on a VEST, I may need your measurements. However, please keep in your mind that the measurements of embroidery design will remain the same, 8 x 8 or 9 x 9.

ABOUT REFUNDS AND RETURNS
I am Sorry for the inconvenience, but I am not accepting returns or refunds on SPECIAL ORDERS!

If you have any questions, please feel free to contact me.
Thank you for your visit!
---
More from this collection